Are you looking for ways to improve your writing skills?

If you're writing blog posts to improve organic traffic or invite back your existing customer base, your writing is the way you interface with your audience. Therefore, it's imperative that you use this engagement to make an excellent first impression.
Little mistakes can equal big confusion
Whether you have minor typographical errors or grammatical mayhem, the result is the same.
Blog posts or other copy riddled with errors make a less-than-impressive impact on your readers. In fact, they can cause confusion that makes your message less impactful.
Even teeny little punctuation errors can change the meaning of your message. The following is an example:
I saw a man eating turkey.
Vs.
I saw a man-eating turkey.
Do you see how that hyphen in the second sentence changes the meaning?
In the first sentence, you're portraying a mundane, everyday scene. In the second, you are sending a warning—if you really do see a man-eating turkey headed your way, you'll absolutely want to emphasize the urgency of the situation.
So, how do you ensure that you capture these subtle nuances and express your thoughts clearly?
Professional writers don't admit this often, but we make mistakes, too. The difference in the delivery of clean copy comes through the editorial process. Those of us who don't possess the budget needed to hire professional editors rely on one tool to help keep our writing on point—Grammarly Premium.
How to Use Grammarly Premium to Make Your Copy Shine
1 – Set your dialect of English
I'm an American, but I write weekly content for a client in Australia and have two regular clients in Canada. While the spelling differences are subtle, and a reader will comprehend the meaning, I take pride in delivering the best copy I can to every client.
In these cases, I am ghostwriting custom copy. My job is to support my client's needs and make them look like a writing rock star. So, these details matter.
Using Grammarly allows me to switch between my American dialect and other variations with just two extra clicks.
All I need to do is change my default setting from American English to British English, Australian English, or Canadian English by clicking, selecting from a drop-down menu, and clicking "new document."
This tool picks up those nuances in punctuation as well as spelling.
My American "neighbor" becomes "neighbour."
The American punctuation Dr. converts to UK Dr (note no period).
These are "misses" that I make frequently. My clients would feel inclined to correct them before publication; however, delivering perfect copy is my responsibility, not theirs.
2 – Customize your dictionary
If you find your spell-check tools in your word processing app and Grammarly flagging proper names or colloquialisms as misspelled words frequently, you can add them to your Grammarly dictionary.
This feature is also beneficial if you are referring to new technologies or terminologies that haven't been added to Grammarly yet.
Here's a recent situation. I was asked to write content for a client about Mompreneurs who earn a killing working from their kitchen tables while the babies are napping. However, the word "Mompreneur" consistently got the telltale red squiggle line in Word and wasn't recognized by Grammarly.
While most people don't need to utilize that term, I write for this particular blog frequently. I added it to my custom dictionary in less than 20 seconds.
Head to your "Profile" tab. Select "personal dictionary," type in your new word (and double-check your spelling) and click the "add" button.
I was able to eliminate being slowed down by this particular edit when I write on this topic.
3 – Plagiarism Checker
Perhaps the most significant reason that I use Grammarly is the plagiarism checking tool.
You see, Google does not like duplicate content. It wants to consume a diet of fresh content that's free of duplication whenever possible. Indeed, Google could even penalize you for adding plagiarized material—intentional or accidental.
Writing original copy is perhaps the most critical of all writing skills.
Unfortunately, much plagiarism is unintentional. When you create content surrounding the same topic that other people have written about before you, duplication can (and does) happen.
The more specialized the content, and the more industry buzzwords that you must include, the easier it becomes to make that mistake.
Grammarly Premium offers you a plagiarism checker that conducts a comprehensive check against billions of pages of content out there on the web. Forgive the cliché, but Grammarly's plagiarism tool thrives as one of the 'gold standard' products in the market.
Fixing mistaken duplications
Once Grammarly detects duplications, you can correct it by tweaking phrasing or selecting synonyms and then scanning again to ensure you've eliminated the problem.
A second, although less preferred, method of correcting your accidental plagiarism is quoting and crediting the source of that content. Of course, Grammarly kindly supplies you with that data.
Finally, you can cover yourself by downloading a free PDF that certifies your content as 100% unique.
The Bottom Line
If you want clean and clear copy that shines, you must edit your work thoroughly. Editing is the way to boost your writing skills.
Whether your goal is to compel readers to stay on your site, encourage shoppers to click your "buy now" button, or convince the world that you are a true professional, that principle holds true.
Unfortunately, many of us don't have the big budgets to hire an editorial staff. Instead, we rely on the tools at our disposal. Grammarly Premium is one of those tools that every professional must invest in to ensure you make a first impression that wows readers.
We promise that Grammarly can make your copy shine like a pro's prose! Try it for free by clicking below.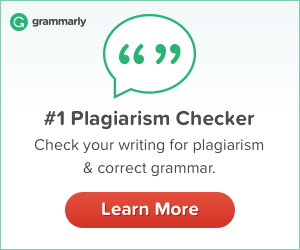 Some of the links in this blog post are affiliate links. Therefore, if you click on the affiliate link to purchase the item, I may receive an affiliate commission at no extra fee to you. However, I only recommend products that I know and love.